On May 1st, the Miami Dolphins held their final auditions for their 2016 cheerleader squad at the Rose and Alfred Miniaci Performing Arts Center on the campus of Nova Southeastern University.  Over 800 dancers started the process, which included international auditions in Bogota, Colombia; Buenos Aires, Argentina; Mexico City, Mexico; Rio de Janeiro, Brazil and local auditions in South Florida, and climaxed with 77 finalists in a pageant style final that was open to the public.
And regarding the 77 finalists…it was a cavalcade of beauty and talent worthy of one of the most visible entertainment groups in all of professional sports, the Miami Dolphins Cheerleaders.
This is the second year that I have covered the Miami Dolphins Cheerleaders Final Auditions with our Florida Correspondent, Jackson M.  It is a wonderful event to shoot with the sheer numbers of absolutely gorgeous girls trying out and the unprecedented support we receive from the Dolphins organization, it makes for a magical experience and it is reflected in the shots we get.
This is pageant style audition, which is to say much more theatrical and a fan friendly event than auditions that are closed to the public.  There would be three phases of the finals: an introductory performance, an individual talent presentation, and the final performance – a high energy, high kicking, tour de force finale.
The Introductory Performance
The first phase of the finals was a dance routine that was choreographed by former Dallas Cowboys Cheerleader Brooke Sorenson Nix, the choreographer of the MDC.  Candidates were brought before the judges in a small group or four or five girls that featured several eight counts of dance and included a kick line segment at the end.
The Individual Talent Presentation
Perhaps the most interesting and colorful portion of the finals, the individual talent presentation is a chance for each candidate to showcase their unique talents and leave a favorable impression in the minds of the judges.
The Final Performance
The final performance is truly the grande finale of the event.  The girls come out in small groups and performance a spirited dance performance and once the entire 77 girls have performed, they line up for a second time to perform a high kick routine.  It is forty five minutes of non stop dance action and a fitting conclusion to the audition process.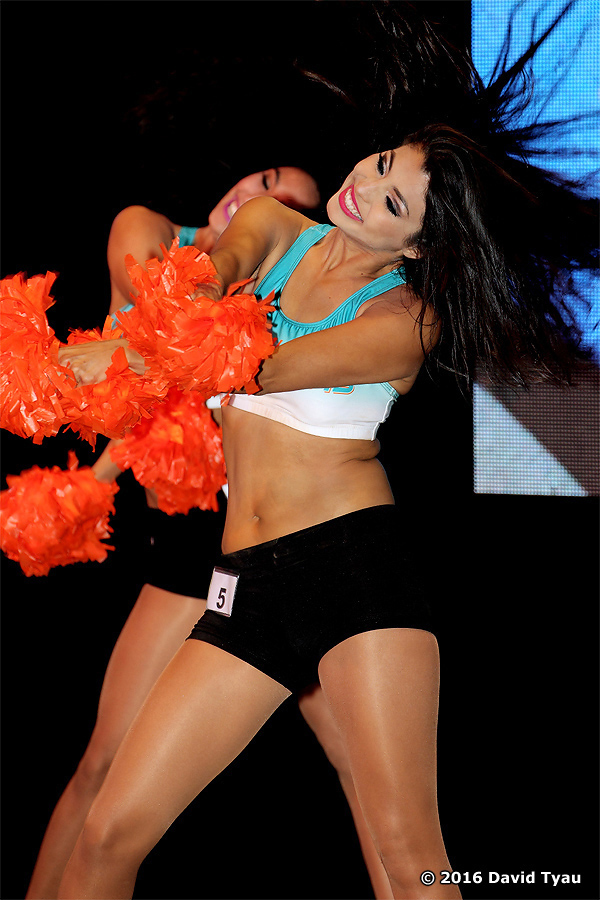 After the last group performed, the girls were called up to the stage one final time and were introduced to the audience.  Then the judges retired for a brief respite before the final forty girls were announced.  They made it to training camp…the final step before making the squad.
All in all, it was a wonderful day of dance, a veritable parade of some of the most beautiful and talented dancers from around the world.
*                *                *                *                *
My thanks to Theresa Manahan, Sydney Wade, and the staff of the Miami Dolphins Cheerleaders for allowing me and Jackson to cover their auditions.  We had a great time and appreciate all your support.