The Arizona Cardinals flew into town to play the Chargers in the preseason finale, a prelude to the season opening rematch in Phoenix next week.  Their were high kicks a plenty all game long…unfortunately, I'm not talking about the Charger Girls.   When the final gun sounded, both teams combined to kick seven field goals in a predictably dull game.  Without the starters playing for either team, that was the best that could be expected.
Final Score: San Diego Field Goalers – 12, Arizona Field Goalers – 9.
At least the Charger Girls were in mid season form.
I have said this pretty much every year that I have written for this blog and I will say it again…the only thing good about preseason games are the Charger Girls. It's just, plain bad football and we get to drive out on a Thursday night and pay full price, we season ticket holders, to watch some football played by guys that won't be on the team in 48 hours.
The only redeeming aspect is the Charger Girls.  This game was my first chance to see the girls in their regular game day uniforms and that was worth the price of admission.
Okay, enough of the annual diatribe against preseason football…let's get on with our regular coverage of the Absolutely Fabulous San Diego Charger Girls.  We begin with the Captains: Angela, Natalie, Katelyn and Clarisse.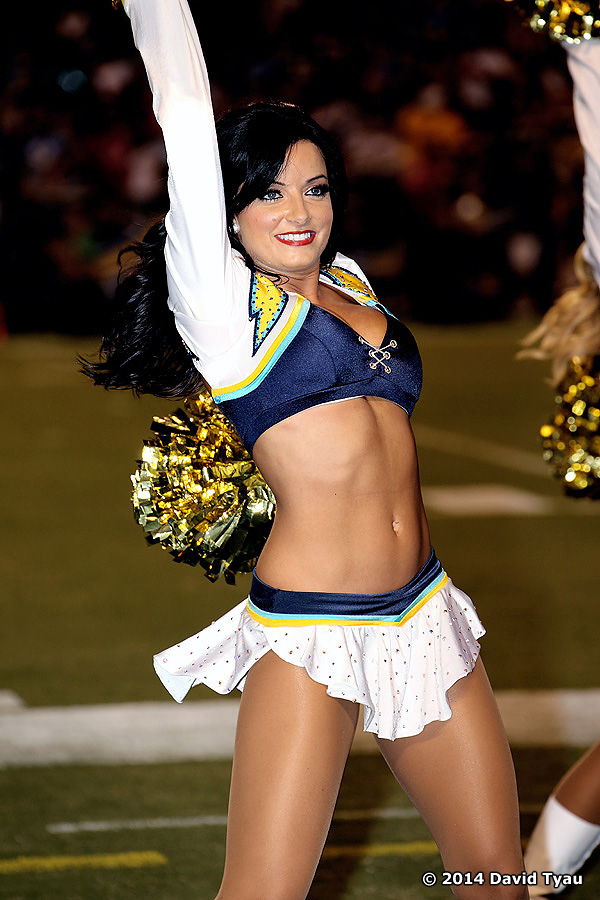 This week's Charger Girl of the Day is a rookie, who happens to share a first name with our last game's CGOTD…introducing this week's honoree, Bridget C.
This is a nice group of newcomers, so lets begin our regular coverage by introducing the 2014 rookies. We begin with Alexandra, Angela G., Angelica, CGOTD Bridget C., Bridget J., Brittany, and Delani.
We continue with rookies Denise, Dominique, Elizabeth, Gabrielle, Jayme, and twins Devin and Whitney…I still can't tell them apart.
We continue our coverage with the returning veterans: Alexa, Alexis, Anjelica, Karissa. Lindsay, Shelbi, Tawnie, Tina, and Tinaiya.  Kayla was not present this week.
There are a lot of things not to like about preseason football and the only good thing you can say about it is that it lasts only four weeks.  You can't even get a good read on your fantasy football team because the starters see so little game action.
But there is one redeeming aspect and that is the cheerleaders.  For them, the season begins with the first game of preseason and there ain't no scrubs on their squads.  But who goes to a preseason game only to watch the cheerleaders?   Well…I guess I do.  Paying full price for these games is a perk of being a season ticket holder (sarcasm).  So rather than letting hundreds of dollars go to waste, I do come to these games if only to check out the Charger Girls…and, if I'm honest, they make it worth my while.